29 Jul

How to set up IMAP email in Apple Mail

If you host with Hetzner (now Xneelo) like we do, you'll often find yourself going around in circles trying to verify identities or getting login errors. We've tweaked the Xneelo email setup guide which you can view here.

For Apple Mac Mail Setup start here; or for iPhone & iPad start here

2. From the toolbar at the top, select File and then Add Account.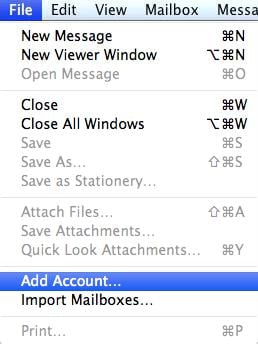 Apple Mail Setup
3. Enter your name (which will appear the "From" field in your emails), email address and password, then click Continue (forgotten passwords can be reset in konsoleH)
Incoming Server Settings
4. Complete the information:
Account Type can be IMAP  (IMAP is default)
Description (optional) e.g. Xneelo
Incoming Mail Server is mail.(your domain name) or IP Address
User Name is your full email address
Password is your mailbox password (as in the previous screen)
6. Apple Mail will now test the connection to the specified mail server. Once this is complete, click Continue.
Outgoing Server Settings
8. Enter the outgoing mail server and ensure that the Use Authentication checkbox is ticked.
9. Enter your username and password (if these fields are not automatically populated) then click Continue.

10. If you receive a security certificate notification click trust all and continue or follow the steps in this blog. Click Here
11. Goto your preferences.
12. Click Accounts and then server settings. Make sure that the automatic settings for incoming and outgoing are not ticked and the ports are correct with the Use TLS/SSL settings ticked
You have completed your account setup
SET UP IPHONE / IPAD IMAP FOR EMAIL
The iPhone and iPad supports IMAP. IMAP will allow you to synchronise emails and folders with your Xneelo mail server.
Follow these steps to create a IMAP connection to an iOS device:
On the iPhone, tap Settings.
Tap Mail, Contacts, Calendars or Passwords & Accounts
Tap Add Account.
Tap Other.
Tap Add Mail Account.
Complete the Name, Address (email address), Password and Description fields.
Click Next.
Ensure IMAP is selected.
Enter your incoming mail server information:

Hostname is mail.yourdomain.com
Username is your full email address
Password is the same password used to access webmail

Enter your outgoing mail server information:

Hostname is smtp.yourdomain.com
Username is your full email address
Password is the same password used to access webmail

Tap Next.
The phone will attempt to Verify the server identity. If you receive the Cannot Verify Server Identity alert click Details (If you get an SSL alert skip two steps).
Next select Trust to validate the server.
Tap Save (jump 4 steps).
The account will attempt to retrieve default settings from the server, and then present the message Cannot Connect Using SSL. Do you want to try setting up the account without SSL?. Please be patient while the settings try and authenticate with the server. Since the account is attempting to be setup securely but there is not an SSL assigned to the mail domain, it is okay to tap Yes at this point.
Choose Yes.
Tap Save
When prompted, "This account may not be able to send or receive emails. Are you sure you want to save," tap Save.
Tap the account you just added (identified by your email address).
Scroll down and tap the SMTP button.
Select the server you just added, identified by the hostname from step 9.
Select OFF for Use SSL (default option).
Select Authentication and change it to Password.
Server Port should be set to 587 (outgoing SMTP port)
Select Done at the top (the phone will Verify your settings).
Select Account at the top to go back.
Tap Advanced (bottom).
Scroll down to Incoming Settings.
Select OFF for Use SSL.
Select Authentication and change it to Password.
Select 143 for Server Port (incoming IMAP port)
Tap your Account to go back.
Tap Done to go back (the phone will Verify your settings).
Tap the Home button.
Tap the Mail App to check your configuration.
WHY IMAP vs POP MAIL?

POP Mail
POP (Post Office Protocol) simply downloads email to your computer and then deletes the email from the server. If you access your email on more than one device (desktop, laptop, tablet or phone), your mailboxes will not synchronise across devices. 
Best uses for POP Accounts:
When disk usage on the server needs to be used sparingly.
When emails can be backed up locally on the device(s) and server backups are not as important.
When synchronization of folders from the device to the server and with other devices is not a requirement.
Pros:
If you want to send and receive your emails through one device, a POP account is suitable.
As emails are downloaded and usually removed from the server, you don't risk disk over-usage charges on your hosting account.
Cons:
Data loss is possible if your computer is stolen or corrupted, as the mail is removed from the server. (The konsoleH Restore Backup system makes daily backups which can be used to recover emails, however, only emails available on the server at the time the backup was made can be restored.)
Synchronisation of sent emails is not possible. All emails in the sent folder need to be backed up locally.
If you are using POP but would like to store copies of incoming mails on the server, then set up your mail client to leave a copy of messages on the server. Beware of higher storage costs though.
IMAP Mail
IMAP (Internet Message Access Protocol) is the most modern and widely used protocol, which can download AND upload (synchronise) data with the server whereas the POP protocol is a download–only protocol and thus will not be able to upload data to a server. IMAP can synchronise advanced permissions and other folders and is also able to distinguish between already read/opened mail from device to device.
Best uses for IMAP Accounts:
When you want to synchronise / mirror image your account emails and folders with the server and with all your devices
When the increased disk usage that this configuration will consume on the hosting server is not as much of a concern
When reliance on an online Backup system is more convenient than backing up the email account locally
Pros:
All email and folders are synchronised and stored on the server.

Folder and file directories will appear the same way each time you set up the same accounton a different device.
You can switch between your email software and the xneelo Webmail interface at any time and the same emails should still reflect.
If the data stored on your computer is corrupted, formatted or if your computer is stolen your emails will still be available on our server.
Cons:
Your disk usage on the server builds up quickly depending on the volume of emails received/sent.
You will need to continuously remove unwanted emails to control server disk usage.
WHAT MAIL PORTS TO USE:
| | | |
| --- | --- | --- |
| | With SSL | Default (non SSL) |
| Incoming POP mail server | mail.yourdomain | mail.yourdomain or pop.yourdomain |
| Incoming IMAP mail server | mail.yourdomain | mail.yourdomain or imap.yourdomain |
| Outgoing SMTP mail server | smtp.domain | smtp.domain |
| Incoming POP port | 995 | 110 |
| Incoming IMAP port | 993 | 143 |
| Outgoing SMTP port | 465 | 587 |